Visit Our Sponsors: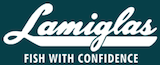 Skagit Drift Boat Photography Tours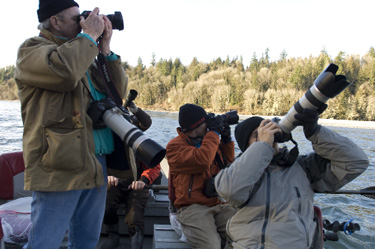 If you are looking for an all day Photo Tour, this is the trip for you. Of course the high point of the trip are the Bald Eagles, but there are many photo opportunities for wildlife and scenic shots year around. These tours are customized to the amateur or professional photographer and is a 6 hour tour. There are several different sections of these two rivers to float, depending on what the client is looking for. You will have the boat to yourself on this tour with a guide that will do his best on getting you as close to the wildlife as possible, and getting you in the right position for lighting and scenic shots. Give us a call and we will discuss what would work best for you. Don't forget to enter our Photo contest! You could win a free Photo tour!
Tours in Skagit River

6 to 8 hour Private Float Trip Rates:
1or 2 person $450.00
3 Persons     $500.00
4 Persons     $550.00
5 Persons     $600.00
6 Persons     $650.00
Call for large group Rates
Skagit Jet Sled Photography  Tour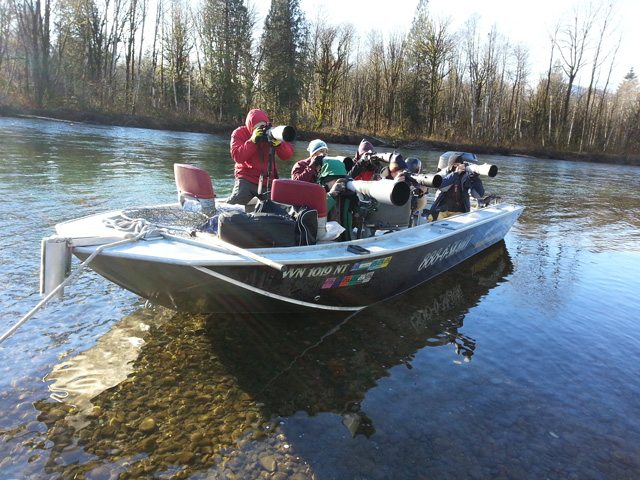 These tours are 2.5 to 3 hours in length and specifically meant for photography using a powered boat (jet sled) which has become our photography clienteles choice for getting great shots of the birds. It has a large motor to run upstream with a small 4 stroke engine that we use to control the boat as we drift back down stream. The small motor allows us to hold in swift water and is ideal when making a close approach to the birds while they are feeding or sitting in low branches along the river. The jet sleds ability to go back up stream makes it much more versatile. One other positive about the Sled is that it is large and can hold 6 photographers plus gear and is a very stable platform.

 
 Jet Sled Photography Tour Rates:
99.00 per person (4 person minimum 6 person max)
Private Jet Sled photo tour (1 to 6 persons) $594.00
Photo Contest
If you are interested in entering our Photo contest just send your picture to us via email along with a contact phone number. All pictures will be posted on our facebook webpage at facebook.com/skagiteagles. All pictures are protected by our copyright. The winner will be determined by email vote on March 25th.
1. The picture must be taken from one of our guided trips.
2. Only 1 picture may be entered per person, per trip from the current season.
3. Winners will be chosen by the contestants voting for the best picture.
4. If you submitted a picture, you must vote for what you consider to be the best picture in the contest. If we don't receive a vote from you your picture will be disqualified.
5. You may not vote for your OWN picture.
6. The picture that gets the most votes will win first place, the next highest 2nd place, and then 3rd place.
Send all votes to This email address is being protected from spambots. You need JavaScript enabled to view it. by March 5th.
1st Prize: 2 person Jet Sled Tour
2nd Prize: 1 person Jet Sled Tour
3rd Prize: 1 person Jet Sled Tour
If you have any ideas or input about the contest feel free to let us know so we can continue to improve it. Many thanks to all that joined us in the past! We appreciate your business and have only our clients to thank for keeping us on the river.