Skagit River Eagle Watching
You can conveniently purchase your tickets on-line or call us at:
360-510-1243
Tours in Skagit River
Beginning in late November Bald Eagles start showing up for their annual migration from northern Canada and Alaska to feast on the dying fall salmon. The Skagit is home to the largest concentration of eagles in the lower 48 States. Some years we see up to 300 birds return to our valley, and during the peak of the migration it is common to see 100 to 200 plus birds in a 3 hour Skagit River Eagle Tour. The Skagit has a diverse eco-system and is one of the most pristine rivers in our state. It is one of the few rivers that has all 5 salmon species returning to it and is world renowned for its Steelhead and salmon runs. The Skagit is an incredibly beautiful river with majestic snow capped mountains, lush evergreen trees and abundant wildlife. Reservations are required.
Use our secure online booking, email or call our toll free number 360-510-1243 to reserve your seats.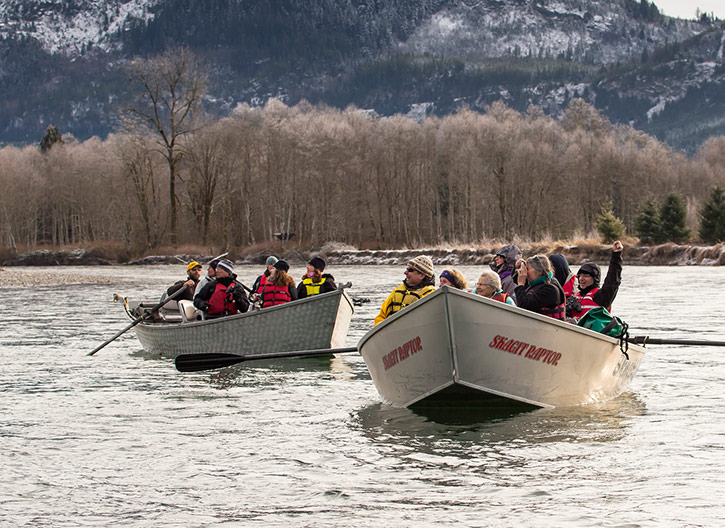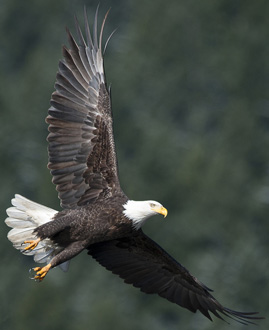 The Skagit Valley is home to Deer, Elk, Bear, Cougar, Beaver and many types of birds and waterfowl.
Photo opportunities abound while on the river with breathtaking mountain scenery, large numbers of eagles feeding or perched on tree branches, or possibly a glimpse of some of the big game that is abundant in the forest lining the river. Be sure to view our Skagit Eagle Counts page to see our weekly report on river conditions, number of eagles in the sanctuary and photos of our recent tours.
Skagit Eagles begin showing up in mid to late November. Our tours usually start the last week of November.
During the early season Eagle counts for a 3 hour float usually hover between 40 and 80 birds. The peak of the viewing is December and January with numbers topping 200 on many occasions throughout the season. There are still good viewing opportunities until the first week of February with numbers hovering in the 50ish range.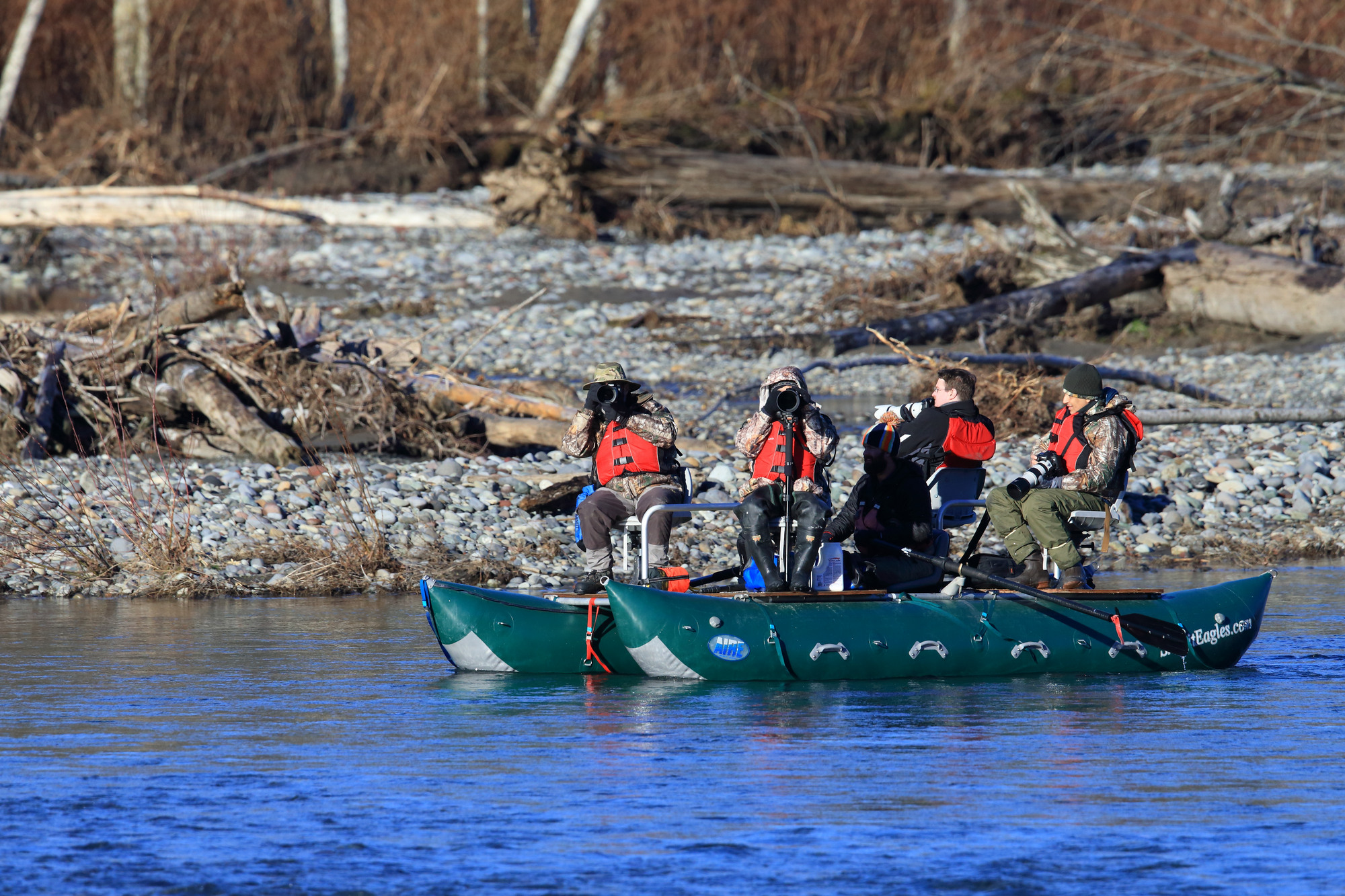 Nooksack Eagle Tour
This trip is down a remote river system with beautiful scenery and large bird numbers.

The Nooksack eagle raft trip is a higher energy float than the Skagit, but with a lot more to offer the photographer or nature lover. The Nooksack is a lot smaller river than the Skagit and the only way we can offer tours on it is by using a catamaran style raft. Depending on the river level you may have to step out of the boat and wade through shallow water for a short distance. (Rubber boots are a must on this trip) This Nooksack eagle tour will require the clients to be able to help drag the raft a short distance and be comfortable with walking in ankle deep water. The Nooksack Tour will be a very different experience from the Skagit as there is a few short stretches of mild white water as well as narrow river channels. This tour requires a minimum of 3 people and has a maximum of 4. The Skagit may be renowned for the Bald Eagles, but the Nooksack has higher numbers every year and we are happy to be the only outfitter operating on the upper section of this river.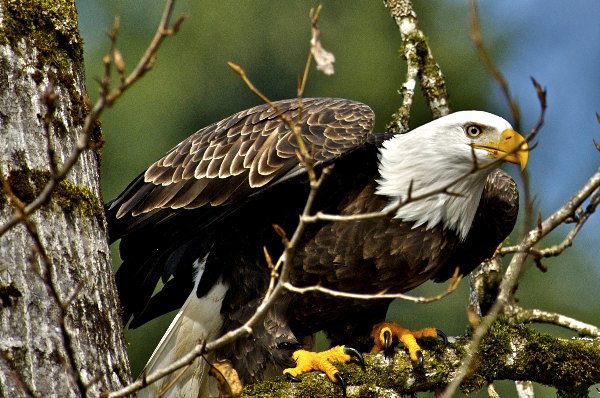 When you Book A Trip with us we will send you easy driving directions to the boat launch via email or mail along with our confirmation letter. Upon arriving at the meeting place we will then transport you up river to the launching point where we will get the boats in the water, the propane heaters turned on high and the Hot Cocoa ready to serve for the trip. The tour takes 2.5 to 3 hours. To make reservations or purchase a gift certificate you can give us a call on our toll free number, email us or use our online paypal account.